Sumatra shutters are made of White Teak – one of the world's finest quality timbers. The wood comes from sustainable forests on the Solomon Islands which nurture several protected species of hardwood trees. The plantation has held certification since 1998 and provides full accountability and traceability of this premium timber.
White teak is our most versatile hardwood. Whether painted or stained, S:CRAFT's engineered White Teak is the expert's choice. White teak is renowned for being very stable with a fine and straight grain and an even texture. In addition it is lightweight and odourless. These properties have made it a favourite among wood carvers and this is reflected in the fact that it is ideal for special shape shutters and the production of louvers as it holds straight and true. Being a lightweight wood it also provides a large amount of flexibility when it comes to designing your plantation shutters as the weight naturally affects the expanse of window you can cover without needing extra support. White teak also accepts stains very well which means you can be assured that should you choose a stained finish your shutters will have a uniform and consistent look.
Our Sumatra shutters are available in a wide range of 28 paint and 20 stain colours plus a custom colour option to the UK's leading paint company's colours including the Paper Library, Fired Earth, Farrow & Ball and Dulux Vintage to provide an unrivalled array of colours and options. White teak accepts stains very well which means you can be assured of a uniform and consistent look should you choose this option. Sumatra has the widest range of louvre sizes within our shutter range with every louvre size available from 32mm to 114mm elliptical louvres plus there's a 60mm and 84mm flat louvre option providing even more choice.
Our Sumatra range also comes in the widest choice of frames and stiles and are ideal for all special shapes including linear and curved windows and large expanses due to the unique properties of the wood and its wide ranging capabilities. We can also offer a remote control option that allows the louvres to be opened and closed at the touch of a button, ideal for those hard to reach places like roof windows and hallway windows. You can even pre-set the times the louvres open in the morning and close at night to make our shutters even simpler to use.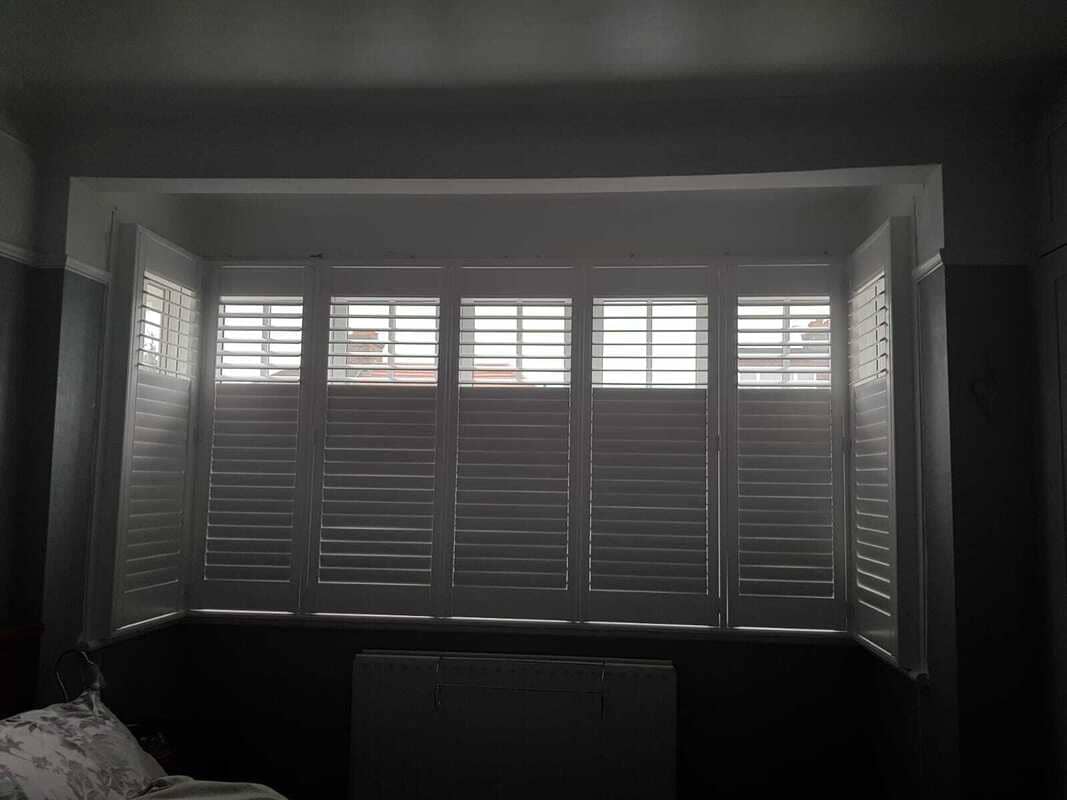 With the widest choice of paint and stain colours, louvre sizes and stile types, our Sumatra shutters offer the perfect compliment to any room including living rooms, bedrooms, hallways, conservatories, gable ends, bay windows, sash windows, French doors and many more applications. These options offer an enormous amount of flexibility and customisation to provide you with a bespoke shutter solution second to known.
Built to perfection, guaranteed to last our top-of-the-range Sumatra shutters comes with a guarantee, of 3 years to help provide you with an added peace of mind and assurance that you are buying the highest quality window shutters available in the UK.
BOOK A FREE IN-HOME MEASURE & QUOTE APPOINTMENT
Material
White Teak
Paint Colours
28
Stain Colours
20
Louvre Sizes

32mm, 47mm, 60mm Flat, 64mm, 84mm Flat, 76mm,

89mm, 114mm

Water Resistant
No
Solid Panels Available
Yes Shaker – Stain Only
Special Shapes
Yes
Custom Bay Post Angles
Yes
Style Type
Beaded, Plain, 60mm Flat, 84mm Flat
Fixed Louvres
Yes