Antigua Shutters are the entry point for our highly desirable range of window shutters, Antigua is manufactured in MDF and covered in an extruded polypropylene coating to provide a high quality finish and excellent value for money. The materials selected result in the shutter being extremely durable and therefore ideal if going to be open and closed a lot and in high traffic areas such as family homes.
Antigua is ideal for small to medium sized windows because MDF is a heavier substrate than other plantation shutters in our product range and therefore not suitable for larger windows, also you can only hinge 2 panels together so not ideal for fitting large expanses.
Our MDF Antigua shutters come in a wide range of louvre sizes from 47mm to 114mm and therefore offer customers a good amount of choice. The louvre sizes can affect the amount of light let in when opened, but are also down to personal choice.
MDF is a material that is susceptible to deterioration if exposed to moisture over a period of time. For this reason, we wouldn't advise using our Antigua shutters in high moisture rooms like bathrooms and toilets. They may be fine in kitchens, but depends on the style of your windows (single or double glazed), location (close to sinks and cookers) and the amount of moisture in the room. But don't worry, our expert stockists will be able to provide you with this advice at survey.
 Square and rectangle windows are our most popular window shapes for Antigua because of its limited ability to fit special shapes like curves, however linear shapes such as triangles are possible and can provide a cost efficient shutter solution for an otherwise hard to cover area. For a wider range of special shape window shutters, please see our Fiji range of shutters which have far greater capabilities for large special shapes due to their unique weight and strength qualities.
Antigua shutters come with a decretive bead running down the length of the stile to provide a quality finish to your shutters. For more stile options, you'll need to refer to our Sumatra shutters that come in the widest range of stile types.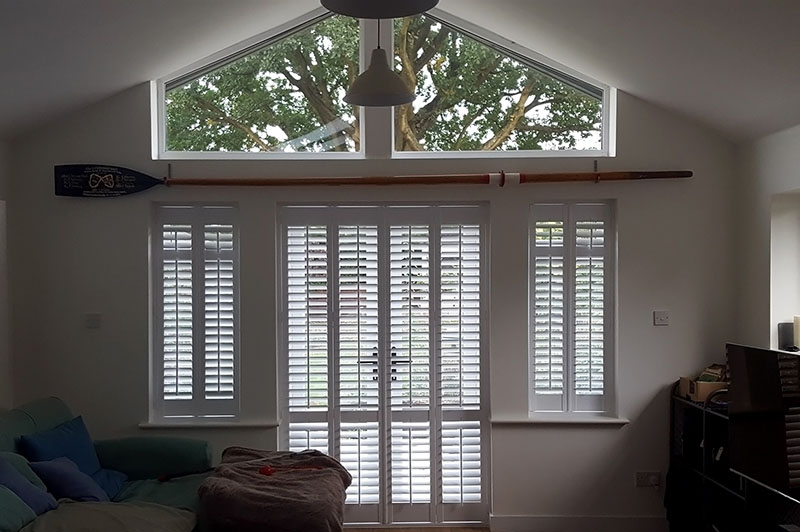 BOOK A FREE IN-HOME MEASURE & QUOTE APPOINTMENT
| | |
| --- | --- |
| Material | Polypropylene Coated MDF |
| Paint Colours | 5 |
| Stain Colours | No |
| Louvre Sizes | 47mm, 64mm, 76mm, 89mm, 114mm |
| Water Resistant | No |
| Solid Panels Available | No |
| Special Shapes | Yes |
| Custom Bay Post Angles | Yes |
| Style Type | Beaded |
| Fixed Louvres | Yes |